If you're on the hunt for a vacation destination that combines sun-drenched beaches, rich history, lively culture, and breathtaking landscapes, look no further than Mykonos. This Aegean gem offers an array of unforgettable sights for every type of traveler. Here's a guide to some of the best sights that await you in Mykonos.
Historical Landmarks
Immerse yourself in the rich history of Mykonos by exploring its fascinating landmarks. These sites tell stories of the island's past, offering insights into the traditions, architecture, and lifestyles of the people who once inhabited it. 
They are not just landmarks but are living testimonies of the island's evolution through the ages. From iconic windmills to a unique complex of churches, here are some historical landmarks that help define the cultural heritage of Mykonos.
The Windmills of Mykonos
No visit to Mykonos would be complete without seeing its iconic windmills, which have become a symbol of the island. Located in the main town—Chora, these historic structures offer a glimpse into the island's past when wind power was used to grind grain. They also provide an excellent backdrop for your holiday photos, especially at sunset when they're bathed in a warm, golden light.
Panagia Paraportiani
One of the most beautiful and famous churches in the Cyclades, Panagia Paraportiani is a complex of five churches merged into one. Its white, asymmetrical structure against the azure Aegean backdrop is a sight to behold. The church's name translates to "Our Lady of the Side Gate," as it was built next to the entrance of the medieval castle in Chora.
Captivating Beaches
Mykonos is famed for its idyllic beaches, each one offering a unique slice of paradise. These are places where the blue of the sky and sea meet, creating postcard-perfect views that are hard to forget. 
Whether you're seeking a lively party atmosphere or a tranquil retreat, the beaches of Mykonos cater to every desire. Get ready to feel the golden sand between your toes and be mesmerized by the mesmerizing Aegean waters.
Super Paradise Beach
Super Paradise Beach lives up to its name with its clear turquoise waters and golden sand. It's a hotspot for travelers worldwide, known for its vibrant atmosphere, beach bars, and music that keeps the party going from dawn to dusk. However, it's not all about the party here—the beach's natural beauty is a spectacle in itself.
Agios Sostis Beach
For those seeking a more tranquil beach experience, Agios Sostis is the place to go. This unspoiled, nudist-friendly beach is away from the main tourist trails and offers a peaceful retreat. The absence of beach bars and music adds to the serene atmosphere, letting you fully appreciate the beauty of the Aegean Sea.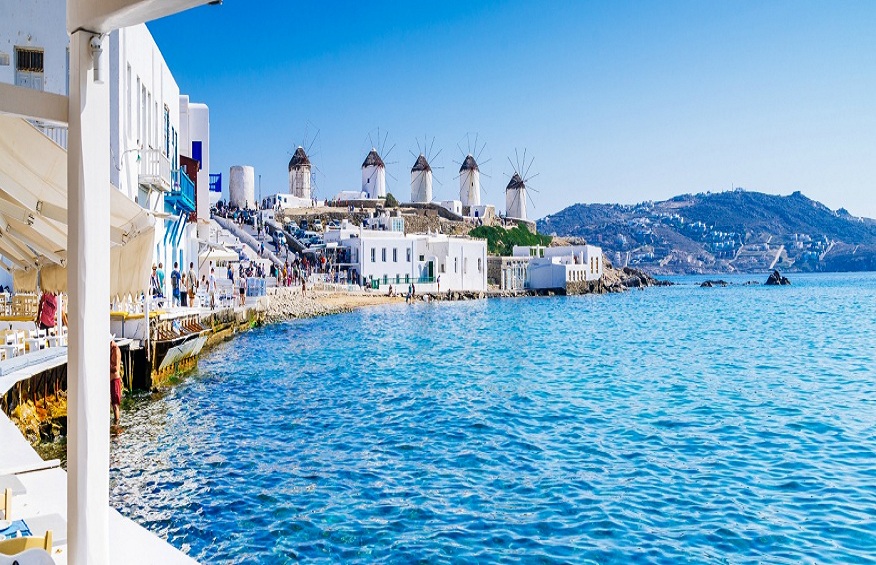 Cultural Treasures
Mykonos is not just about picturesque landscapes and vibrant nightlife. It's also a treasure trove of cultural heritage. 
This island is rich in history, and its museums and cultural centers provide fascinating insights into its past and the broader history of the Cyclades. 
From archaeological finds to traditional art, these cultural treasures are a testament to the island's diverse influences and historical significance.
The Archaeological Museum of Mykonos
This museum houses a vast collection of artifacts from the island and the surrounding Cyclades. The exhibits, which range from prehistoric pottery to Hellenistic jewelry, offer a fascinating insight into the region's history and culture. Don't miss the famous "Pithos of Mykonos," a large vase depicting the Trojan Horse scene.
The Folklore Museum
Situated in an 18th-century sea captain's house in Chora, the Folklore Museum of Mykonos offers a glimpse into the island's traditional life. Exhibits include antique furniture, traditional clothing, and historical photographs, bringing the past to life.
Natural Wonders
Beyond its captivating beaches and historical landmarks, Mykonos is also surrounded by natural wonders that are sure to leave you in awe. 
From uninhabited islands to breathtaking landscapes, these natural wonders offer a chance to connect with the raw beauty of the Aegean region. 
Embark on an exploration of Mykonos' natural treasures and immerse yourself in the stunning scenery that this island paradise has to offer.
Delos Island
Just a short boat ride from Mykonos, the uninhabited island of Delos is a UNESCO World Heritage Site and one of Greece's most important archaeological sites. According to mythology, it's the birthplace of the twin gods Apollo and Artemis. Exploring the ancient ruins amidst the stark natural beauty of the island is a unique experience.
A Myriad of Sights Awaits In Mykonos, Greece
From historical landmarks and mesmerizing beaches to cultural treasures and natural wonders, Mykonos has sights that will leave every traveler in awe. 
Whether you're a history buff, beach lover, or cultural explorer, Mykonos promises a holiday filled with discoveries, fun, and unforgettable memories. So, pack your bags, rent a private villa in Mykonos, and get ready to be charmed by the wonders of this lovely island!